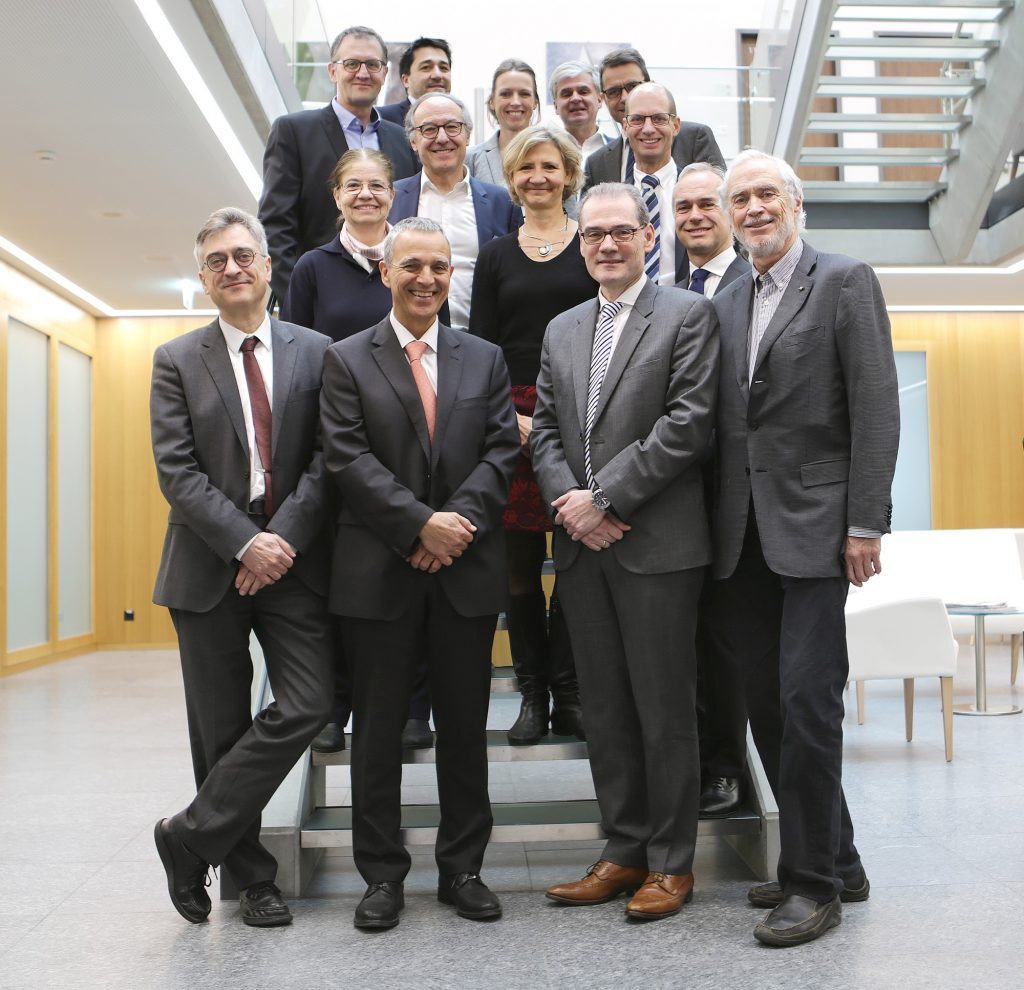 The Swiss Cancer Center Léman (SCCL) is a vigorous alliance of the region's top–notch academic and clinical forces engaged in the fight against cancer. At its board meeting in Gland this week, SCCL members recorded the sizeable achievements since the creation of the alliance in 2013, including the recent launch of its website. They also set out its strategic priorities, central to its core mission of changing cancer patient outcomes.
13/2/2020 – The French-speaking region of Switzerland has an estimated population of 2 million. Of those, the 40% currently at risk of being diagnosed with cancer at some stage in their life will certainly benefit from a series of measures put in place by the SCCL to significantly improve cancer outcomes.
Networked knowledge
Today, the Réseau Romand d'Oncologie (RRO), a regional network born out of the SCCL partnership and extended to all practicing oncologists, offers sophisticated multi-omics analysis and the basis on which to build a regional database that will provide tomorrow's cancer specialists with the statistics to better fight the disease. Its Molecular tumour board has already reviewed over 1,200 cases and proposed clinical trials or off-label treatments to over half.
Based on the RRO model, SCCL specialists have also spearheaded the Swiss personalised oncology project (SPO). As part of the extensive Swiss personalised health network (SPHN), the SPO is harmonising sampling processes in oncology across all of the country's university hospitals. It paves the way for nationwide collection of, and access to, integrated clinical and laboratory data for all cancer patients.
Clinical excellence
The clinical trials units of Lausanne and the Geneva university hospitals (CHUV and HUG), both internationally recognised, work closely together; their combined clinical trial offer is published on a joint website. Practitioners and patients alike can thus access details of over 100 trials open to enrolment in both cities.
Science communities
This alliance of the clinic strongly mirrors that of the underlying science. The SCCL has created a striking convergence of faculty, embodied in numerous synergies both across and within its member institutions. Examples of this are plenty; the AGORA cancer research center, situated in the heart of the Lausanne University Hospital, is now permanent home to leading research groups from the member institutions of both Lausanne and Geneva. The EPFL's scientists are part of this transformational neighbourhood and in parallel, the institution has convened its oncology research affiliates within a dedicated hub, the EPFL Center for cancer science. Both it and the Center of translational research for oncohematology (CRTOH), based at the University of Geneva, draw new members each year from both faculties. Within these stimulating configurations, numerous joint collaborations are underway. All these projects have garnered the support both of industrial and academic partners intent on backing profoundly collaborative research.
Setting sights on the future
As the SCCL moves forward, its focus will remain on immunotherapy and precision oncology. Its Phase I/II clinical investigation units, at the CHUV and HUG, aim to include 70 patients in cellular immunotherapy clinical trials by 2022. Centers of excellence that reflect the critical mass of clinical and research activity in the Lake Geneva region are planned. Further multi-institutional projects are in the pipeline and the solicitation of collaborative grants, both local and international, will underpin the SCCL's firm intent to drive constant interactions between its experts and institutions.
PHOTO: Members of the SCCL board of directors , its executive committee and representatives of the member institutions: Andreas Mortensen (EPFL), Pierre-Yves Dietrich (HUG), George Coukos (UNIL CHUV), Douglas Hanahan (ISREC EPFL), Nouria Hernandez (UNIL), Gisou van der Goot (EPFL), Bertrand Levrat (HUG), Yves Flückiger (UNIGE), Philippe Eckert (CHUV), Laurent Kaiser (HUG), Alessandro Sofia (UNIL CHUV), Laurence Boland (UNIL CHUV), François Canonica (HUG), Oliver Peters (CHUV).